Regular price
$13.49 USD
Sale price
$5.39 USD
Unit price
per
Sale
Sold out
Share
Introducing Jennakate's Christmas Holiday Printable Planner 2023 – the perfect companion to help you stay organized and make the most of the festive season! With this comprehensive printable Christmas planner, you'll have everything you need to plan, organize, and enjoy a stress-free Christmas. A Holiday Printable Planner is perfect for all of your Christmas planning and organization.

Now you no longer have to feel stressed and overwhelmed by your Christmas holiday planning! Jennakate has it all organized into one printable Christmas planner (or binder...your choice!).

You will be ultra-prepared this year as you use your Printable Christmas Holiday Planner to VERY easily organize and keep track of each area of the Christmas holiday, including holiday budgets, gifting, Christmas Menu baking, holiday parties, and more.

An organized Christmas is an enjoyable Christmas and Jennakate has your back, mama!

We've even included a planner page to track that mischievous Elf on the Shelf.

This printable planner comes in five convenient sizes to suit your preference: A4, A5, US Letter, Happy Planner Classic, and Happy Planner Mini. Upon purchase, you will receive PDF files for immediate download in all five printable sizes, ensuring you can start planning right away. Keep an eye on your email for the download link!

𝐖𝐡𝐚𝐭'𝐬 𝐢𝐧𝐜𝐥𝐮𝐝𝐞𝐝 𝐢𝐧 𝐲𝐨𝐮𝐫 𝐇𝐨𝐥𝐢𝐝𝐚𝐲 𝐏𝐥𝐚𝐧𝐧𝐞𝐫:

𝗖𝗼𝘃𝗲𝗿 𝗣𝗮𝗴𝗲 & 𝟲 𝗗𝗶𝘃𝗶𝗱𝗲𝗿 𝗣𝗮𝗴𝗲𝘀: Set the tone for your festive planning with a beautifully designed cover page and six dividers, making it easy to navigate through your planner.

𝟮𝟬𝟮𝟯 𝗗𝗲𝗰𝗲𝗺𝗯𝗲𝗿 𝗖𝗮𝗹𝗲𝗻𝗱𝗮𝗿 𝗦𝗽𝗿𝗲𝗮𝗱: Reflect on the previous year's holiday season with a December calendar spread, allowing you to reminisce and plan for an even better 2023.

𝟴 𝗖𝗵𝗿𝗶𝘀𝘁𝗺𝗮𝘀 𝗚𝗶𝗳𝘁 𝗣𝗹𝗮𝗻𝗻𝗲𝗿 𝗣𝗮𝗴𝗲𝘀: Keep track of your gift ideas, budgets, and recipients with eight dedicated gift planner pages, ensuring you find the perfect presents for your loved ones.

𝟰 𝗕𝘂𝗱𝗴𝗲𝘁 & 𝗦𝗽𝗲𝗻𝗱𝗶𝗻𝗴 𝗣𝗮𝗴𝗲𝘀: Stay on top of your holiday finances with four budget and spending pages, enabling you to track expenses, set budgets, and maintain financial control.

𝟰 𝗖𝗵𝗿𝗶𝘀𝘁𝗺𝗮𝘀 𝗣𝗮𝗿𝘁𝘆 & 𝗘𝘃𝗲𝗻𝘁 𝗣𝗹𝗮𝗻𝗻𝗲𝗿 𝗣𝗮𝗴𝗲𝘀: Plan and organize memorable Christmas parties and events with four dedicated pages, including space for guest lists, menu planning, and party preparations.

𝟰 𝗛𝗼𝗹𝗶𝗱𝗮𝘆 𝗠𝗲𝗮𝗹 & 𝗕𝗮𝗸𝗶𝗻𝗴 𝗣𝗹𝗮𝗻𝗻𝗶𝗻𝗴 𝗣𝗮𝗴𝗲𝘀: Prepare and coordinate delicious holiday meals and baking endeavors with four pages dedicated to meal planning, recipes, and ingredient lists.

𝟮 𝗧𝗿𝗮𝗱𝗶𝘁𝗶𝗼𝗻 𝗣𝗹𝗮𝗻𝗻𝗶𝗻𝗴 𝗣𝗮𝗴𝗲𝘀: Cherish and uphold your family traditions with two dedicated planning pages, where you can outline your favorite customs and create new memories.

𝟮 𝗦𝗵𝗶𝗽𝗽𝗶𝗻𝗴 & 𝗠𝗮𝗶𝗹𝗶𝗻𝗴 𝗣𝗮𝗴𝗲𝘀: Keep track of your holiday packages and mailings with two shipping and mailing pages, ensuring timely deliveries and a hassle-free holiday season.

𝟰 𝗧𝗼-𝗗𝗼 & 𝗟𝗶𝘀𝘁 𝗣𝗮𝗴𝗲𝘀: Stay organized and efficient with four versatile to-do and list pages, perfect for jotting down tasks, reminders, and notes.

𝟭 𝗘𝗹𝗳 𝗼𝗻 𝘁𝗵𝗲 𝗦𝗵𝗲𝗹𝗳 𝗣𝗹𝗮𝗻𝗻𝗲𝗿 𝗣𝗮𝗴𝗲: Embark on an enchanting Elf on the Shelf adventure with a dedicated planner page, helping you brainstorm and plan mischievous antics for this beloved holiday tradition.

With our Christmas Holiday Printable Planner 2023, you'll have everything you need to make this festive season unforgettable. Start planning today and enjoy a stress-free and joyful Christmas!
We recommend printing on high-quality printer paper of 28-32lb for planner inserts, and cardstock for cover & divider pages.

**PLEASE NOTE**
• This is for a non-editable, digital product only and does NOT include any physical or printed products.
• Due to different monitor calibrations and printer setups, output colors may vary.
• All digital download file sales are final. No refunds will be provided.
• All images are Copyright 2022 Jennakate LLC. These files may not be shared, sold, or reproduced, and are for personal use only.
View full details
Perfect size I needed and great layout
Shipping

All orders placed M-F are shipped within 24 hours from the time the order was placed except holidays.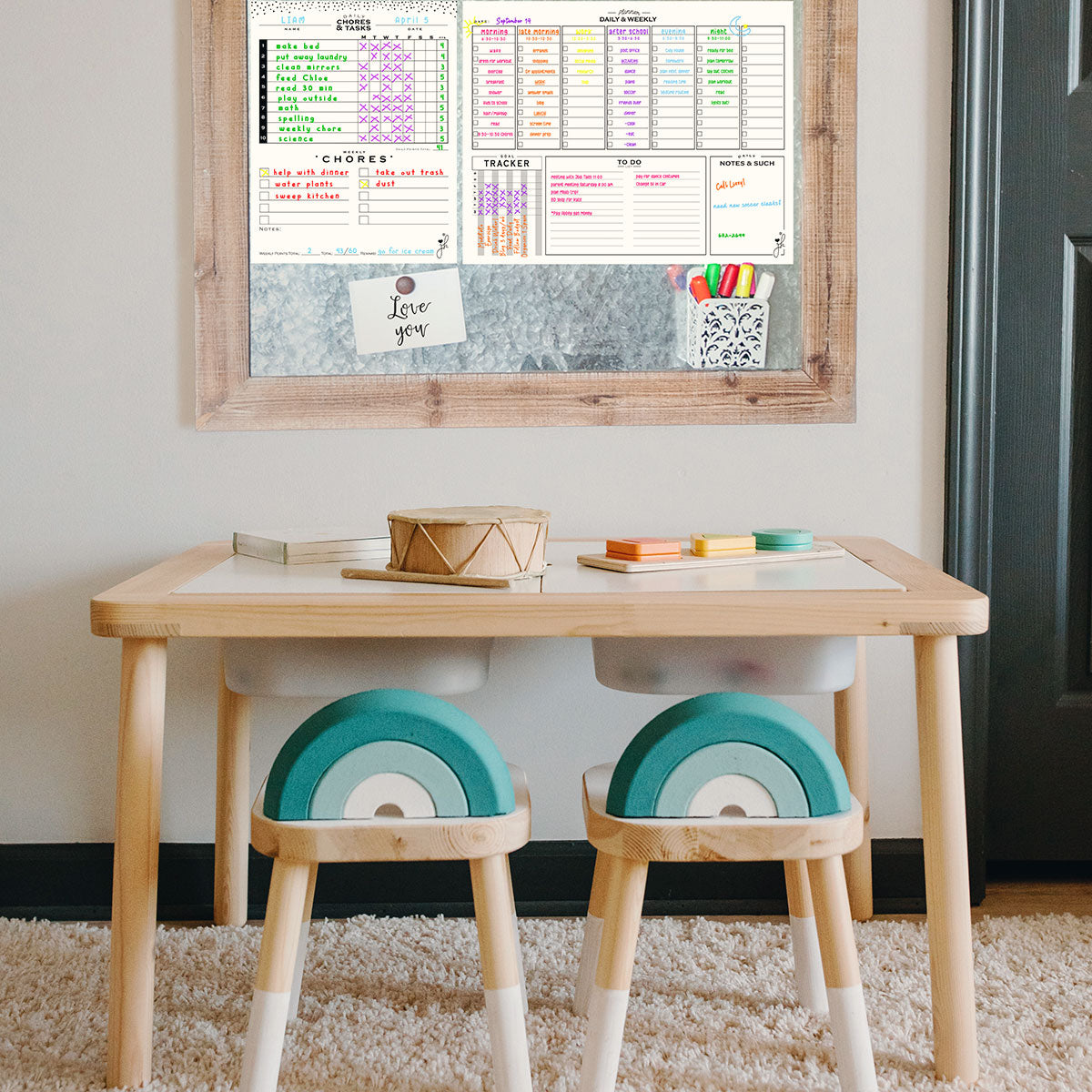 Choose Your Style
All of our charts are designed with the beauty of your home in mind. Select a collection that fits your style and personality.